Apr 27 2017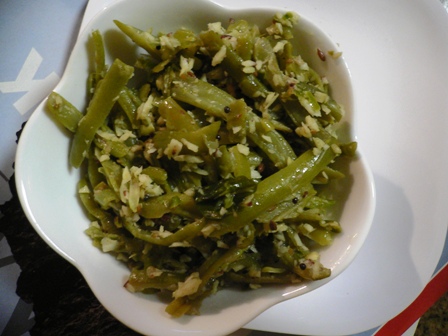 Ingredients:
French cut Beans – 1 lb
Raw Coconut – 1/4 Cup
Green Chillies – 5
Zeera – 1/4 Tea Spoon
Amchur Powder – 1/8 Tea Spoon
Tadka Seeds – 1 Table Spoon
Curry Leaves – 10
Salt to taste
Oil – 2 Tablespoons
Method:
Boil French cut Beans for 5 minutes and keep them aside.
In a Grinder, put the Coconut, Green Chillies and Zeera, then Grind them Coarsely.
Take a heavy bottom pan put the oil and bring it to heat and then put the Tadka seeds and when splatter, put the curry leaves and and then add Boiled Beans and saute for 5 minutes.
Now it s time to add Coarsely ground mix and Salt  to Beans and fry it for another 5 to 10 minutes and finally add Amchur and mix it well and take it off from the heat.
* Serve this with roties or Rice Items.
Comments Off on Beans Fry with Kobbari Koru(కొబ్బరి కోరు)