Nov 07 2010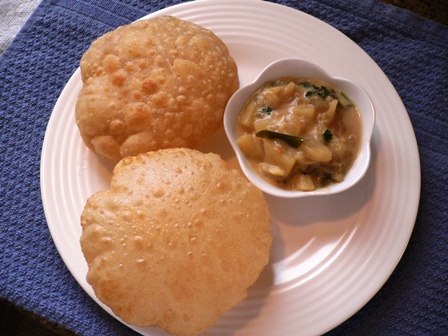 Ingredients:
Wheat Flour – 3/4 Cup
Maida(All Purpose Flour) – 1/4 Cup
Salt to taste
Oil – 1 Tablespoon to mix in with Flours
More Oil to deep Fry
Method:
In a Bowl mix both flours with little bit of salt, 1 tablespoon Oil. Add water as needed to make this dough and keep it aside for one hour.
Take a heavy bottom pan and pour oil and bring it to heat.
Make  portions of the dough and roll them like small discs and put that disc into hot oil gently.
Fry them for a minute or so until you see them become fluffy.
Take them out and place it on a paper towel, so that the excess oil can be absorbed.
Repeat this will the remaining portions of the dough.
Serve this hot with Poori  Curry.
Comments Off on Poori