Dec 29 2009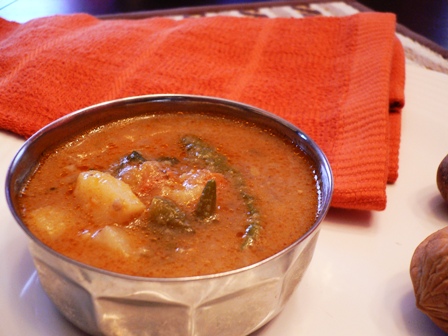 Ingredients:
Potatoes – 2 , Dice them into small pieces
Tomato – 1/2 dice into small pieces
Onion – 1 medium dice into small pieces
Green Chilies – 4 cut into long lengths
Red Chili Powder – 1/4 Tea Spoon
Curd – 2 Table Spoons
Rice Flour – 1/4 Tea Spoons
Clove Powder – 1/8 Tea Spoon
Salt to taste
Ginger garlic Paste – 1 Table Spoon
Cilantro – Handful
Oil
Method:
In a heavy bottom pan, put 5 table spoons of oil. Once the oil is hot put the Onion, green chilies and saute for couple of minutes.
Then put ginger/garlic paste fry it till the raw smell goes off.
Put the rice flour, clove powder, red chili powder and mix it very well.
Put the potatoes, tomato pieces, curd and salt, mix everything and now put 1.5 cups of water and let it cook till it looks like medium thick gravy curry
Garnish this with Cilantro.
It goes very well with dosa, roti and fried rices.
Comments Off on Aaloo Sheruva