Jan 29 2010
 Recently I went to Aasha Fundraising event. There, they served this dish.
That evening, I came home and made it with my twist. Give it a try and you will like it.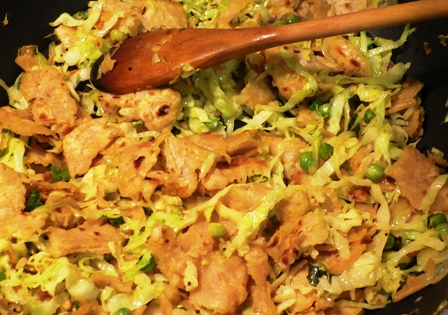 Ingredients:
Roitis – 3 mush into small pieces
Cabbage – 3 Cups shred into thin.
Onion – 1 medium cut into long lengths
Green Chilies – 4 Cut into small pieces
Peas – handful
Curry Leaves – 1 Stem
Capsicum – 1 medium cut into long lengths
Coriander Leaves – Handful
Tadka Seeds – 1 Tea spoon
Green Chilies Sauce – 1/2 Tea Spoon
Red Chili Sauce – 1/2 Tea Spoon
Salt – to Taste
Oil
Method:
Take a heavy bottom pan and put the oil. Let it heat and put tadka seeds, onion, green chilies and curry leaves and saute for couple of minutes.
Put the Cabbage, peas and capsicum and fry till the veggies are half cooked(you need to have crunch in the veggies).
Put the mushed roti pieces and saute for 5 minutes and now put the green chilies sauce, red chilies sauce and mix it very well and put the cilantro leaves and mix it.
Serve it hot.
Serve it with Raita.
Comments Off on Roti Stir Fry