Oct 31 2010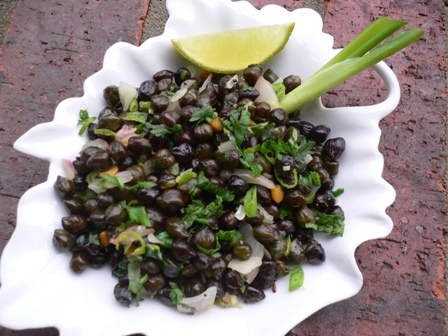 Chana Saute
Ingredients:
Green Chana – 2 cups – cooked
Shallot – 1 cut into small pieces
Green Chillies – 2 Cut into small pieces
Cilantro – 1 Tablespoon – Cut into pieces
Lemon Juice – 1 Teaspoon
Tadka Seeds – 1 Teaspoon
Salt to taste
Scallions – 1 Teaspoon
Oil – 1 Tablespoon
Method:
Soak the Chana for 4 hours and pressure cook it for one whistle and let it cool before you drain.
Take a pan and put one tablespoon of oil and bring it to heat. Put Tadka Seeds and let them crackle.
Add cooked Chana and saute it for 7-10 minutes. Lower the heat and add cut Shallots, Green Chillies and Cilantro and Saute it for couple more minutes. Add the lemon juice and Scallions and mix it gently.
Serve this hot to your Family & Friends on a rainy day. I will assure you, they will love it and ask for more…
Comments Off on Chana Saute