Nov 30 2010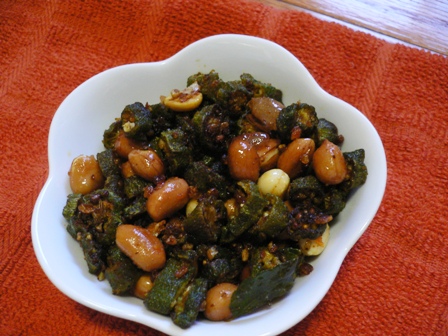 Prep Time : 20 Mins
Servings: 4 (Side Dish)
Ingredients: 
Bhindi(Okra) – 2 Cups – cut into thin pieces.
Peanuts – ¼ Cup
Kobbari Karam(Coconut powder with Chilli powder)  – 1 Teaspoon
Tadka Seeds – 1 Teaspoon
Garlic – 1 Clove – smashed
Curry Leaves – 1 stem
Turmeric – ¼ Teaspoon
Salt to taste
Oil – 4 Tablespoons 
Method:
Take a heavy bottom pan and put 4 tablespoons of oil and bring it to heat.
Add peanuts and deep fry them and keep them aside.
In the same pan, put the tadka seeds, curry leaves and Okra pieces and fry them on medium heat for 10 minutes.
Add salt, turmeric and fry this for couple more minutes and add smashed garlic and mix it well.
Lower the heat and add Kobbari Karam and mix it well. Now add the fried peanuts and mix them well. 
Tip: This is a great  side dish for White Rice and Sambar combination.
Comments Off on Bhindi Phalli