Dec 31 2010

Ingredients:
Spaghetti Squash – 1 Medium
Whole Milk – 1 Cup
Sugar – 1 ½ Cup
Milk Mava Powder– ½ Cup
Cashews – ¼ Cup
Raisins – 1/8 Cup
Poppy Seeds – 1 Tablespoon
Shredded fry coconut – 1/8 Cup
Elachi – ¼ Cup
Ghee – 2 Tablespoons
Method:
Pre-heat the oven for 350 0 degrees. Cut the Squash into ½ and put this on baking sheet(cut side down) and bake it for 25 minutes and let it cool outside.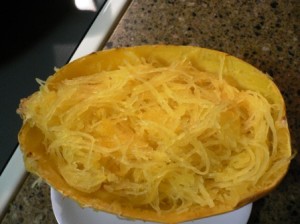 With the fork, pull the squash gently. It will come off like spaghetti and put this in a bowl(approximately 3 cups)
In a heavy bottom pan put the spaghetti squash, milk and sugar and cook it for 15 minutes when it comes close.
Put the milk mava and let it cook on medium heat.
In a small pan dry roast the poppy seeds and coconut individually and keep them aside.
Now put 2 tablespoons of ghee and fry the cashews and raisins.
Put everything (coconut, poppy seeds, raisins, cashews and elachi), mix it gently, and take it off from the heat.
You can serve it hot or cold. Enjoy….
Comments Off on Spaghetti Squash Halwa