Mar 28 2011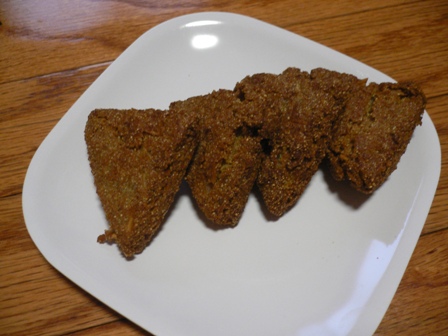 Bajre Ka Khajoor
Ingredients:
Bajra Flour  – 2.5 Cups
Jaggery (Gud) – 1.5 Cups
Shredded coconut – ¼ Cup.
Poppy Seeds – 1 Tablespoon
Cardamom (Elachi) powder – ½  Teaspoon
Water – 1 Cup
Oil to deep fry.
Funnel Seeds – ½ Teaspoon(Crushed).
Method:
Take a heavy bottom pan and put gud and water, bring it to a boil.
After Gud is melted, put the coconut, poppy seeds, elachi powder and bajra flour with fennel seeds slowly and mix it quickly and put this in a plate to cool off.
Once the dough is cooled off, spread it on a parchment paper and spread it like pizza dough and cut this into squares or triangles pieces. See below for picture of cut Raw Khajoor.
Take the heavy bottom pan and put the oil and bring it to heat and gently drop the cut pieces and fry them on medium heat on both sides until they look golden brown color and put this on paper towels to that excessive oil can be absorbed.
You can munch on them as anytime snack. You can store this for a week at room temperature.
Comments Off on Bajre Ka Khazoor