Aug 02 2016
My hubby loves Karachi Biscuits (from Pista house – Hyderabad) so much. But once I started looking at what is in them, I decided to make better tasting biscuits with me knowing the healthy ingredients are in for sure. That was the idea created resulted in a question – Who says healthy food is not tasty? In the quest to answer this question, my new posts will be the reflection of my journey to answer this question.
Enjoy the healthy coconut butter cookies. Try it and let me know how it turns out.
Pinch of Salt and Cardamom powder gives you extra kick to your taste.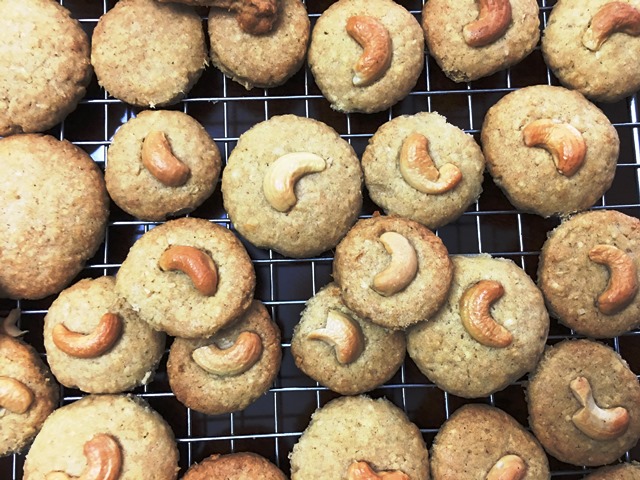 Ingredients:
2 cups – All-purpose flour (maida)(Organic)
1/2 teaspoon baking powder
1/2 teaspoon baking soda
1.5 cups shredded Coconut dry.
2 tablespoons vanilla essence
3/4 cup Organic brown sugar
2 sticks butter – I love grass fed – Kerry Gold Butter.
5 teaspoons milk(try Whole milk – Organic Valley)
1/8 teaspoon Cardamom powder.
Salt – one pinch
Few cashew halves
Method:
Mix the flour, baking powder and baking soda and sift it.
Whisk the sugar and butter together.
Add the vanilla essence, milk and coconut to the mix.
Mix the dry and wet ingredients together.
Add Cardamom powder.
Knead the dough, cut it up into 4 round pieces and refrigerate
for half an hour.
Take small parts of the dough, flatten them out and use the cookie cutter to get interesting designs and if you like stick one cashew half on one cookie and bake them for 18 to 20 minutes at 350oF
Your Yummy Coconut Butter cookies are ready. You can have them as snack or with your hot tea.
Comments Off on Healthy Coconut Butter Cookies