Jul 31 2016
Who says Healthy Food(Organic Food) is not Tasty!
I had great experience making Mutton Biryani using the Instant Pot I bought recently. I am sure I will be making many more recipes using the Instant Pot and will be posting them.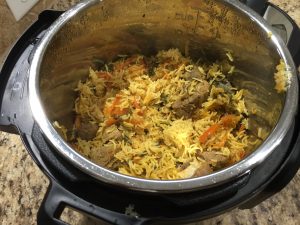 Ingredients:
Mutton – Bone or Boneless – 1 lb. – You can find grass-fed Lamb at Sproutes Farmers Market.
One small onion – cut thin
Green Chillies – 5 cut long and thin
Cinnamon, Cloves & Cardamom – 4 each
Tomatoes – 2 big
Mint – handful
Coriander leaves – 1/2 Cup
Curd – 1/2 Cup
Ginger Garlic paste – 2 Table Spoons
Red Chillies powder – 1 Tea Spoon
Turmeric – 1/8 tea spoon
Clove Powder – 1/8 Tea Spoon
Cinnamon Powder – 1/8 Tea Spoon
Cashew nuts – 12
Salt to taste
Oil to Fry

Basmati Rice – 2 Cups – Water 3 Cups. – Do you know Royal Basmati Rice is a non-GMO product?



Method:
Clean the Mutton and keep it aside.
Since it is mutton, I pressure cooked Mutton in a pressure cooker for 4 whistles beforehand. It is Chicken, we can cook it in Instant Pot(IP) directly.
In IP put the oil and then put the Cinnamon, Cloves, Cardamom, Cashew nuts and Fry them in Saute mode.
Add Onion & Green Chillies to it and fry it until it looks translucent. Add ginger garlic Paste and fry until the raw smell goes.
After that add the meat, yogurt and sauté it for 5 minutes. Add all the remaining powders, mint, coriander leaves and mix them well.
Added 2 cups of rice with 3 cups of water. Set the IP to rice mode (default is 12 mins on low). Let it cook.
Voila! Your Mutton Biryani is ready when IP beeps. Once the pressure is release naturally… serve it hot with homemade Raita.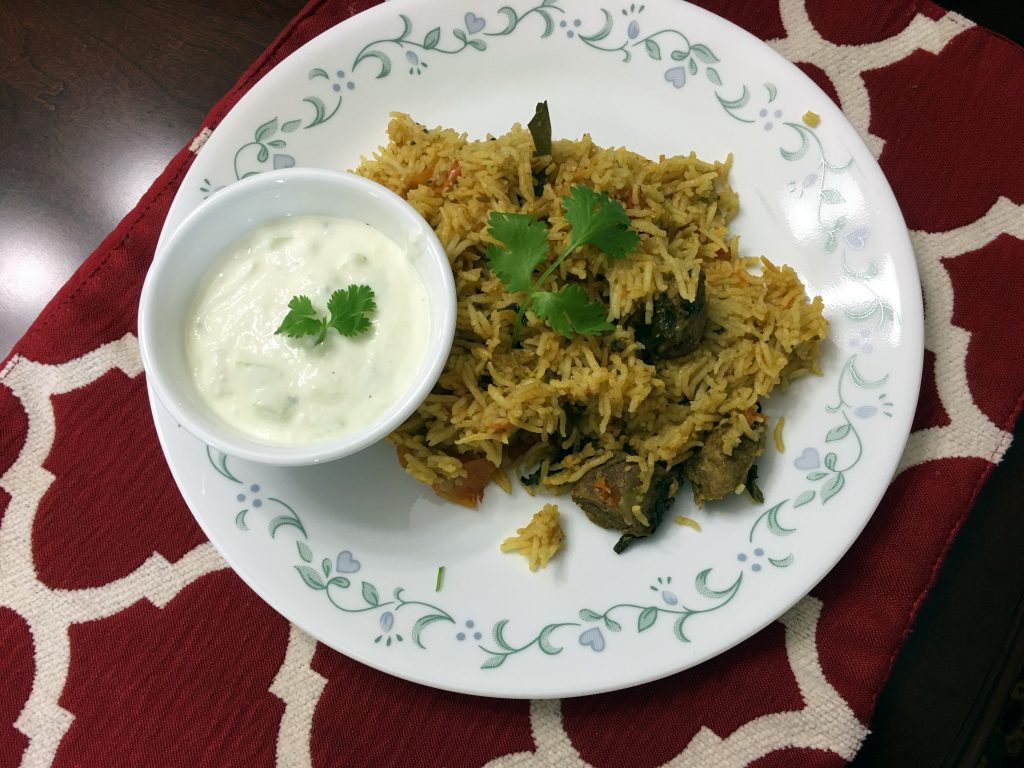 Enjoy… IP people.
Now you know HAPPINESS is home-made!
Tags
aada Aam Aloo angle hair badi Baigan Baked Chicken Burger Cabbage cake carrot fry Chana chicken coconut Coconut Milk dosa Fish Frittata garbanzo Gobi gongura gravy kheer kichidi Mango Masala moongdal Pakoda pancakes parota pasta Pav raita Ravva Rice roti Semiya shrimp snack tadka Tamarind Tindora vada vadiyam Veggie
Comments Off on Mutton Biryani with Instant Pot