Jun 24 2016
As this is Month of Ramadan/Ramzan, you may enjoy eating this at IFTAR party.  Enjoy…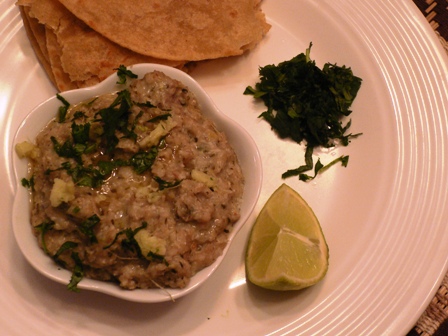 This is one of the variations of making Hyderabadi Haleem. I hope you like it …
Ingredients:
Haleem Wheat    – 150 grams
Young lamb/goat meat    – 100 grams
Ginger Garlic Paste    – 2 Teaspoons
Green Chillies    – 10
Curd    – 1/2 cup
Poppy Seeds    – 1 Teaspoon
Cashewnuts    – 10
Pista    – 2 Tablespoons – Grind it coarsely.
Garam Masala    – 1/2 Teaspoon
Mint    – 1/2 Bunch
Cilantro    – 1/2 Bunch
Lemon    – one
Salt to taste

For Garnish:

Raw Ginger – 1 inch cut into tiny pieces.
Cilantro – 1/4 cup – cut into tiny pieces.
Onion    – small one – Cut thin for deep fry. You can use store brought fried onion or in a small bowl using couple of tablespoons of oil to deep fry these onion pieces until they are brown in color.
Ghee – 1 Teaspoon
Method:
Wash Haleem Wheat and soak it in water for 15 minutes.

Drain the water and put it mixer and pulse it to coarsely.

Put one liter water in a sauce pan and put the  ground Wheat and cook it until it is soft.

In a pressure cooker add mutton, ginger garlic, green chillies, curd, poppy seed, cashew nuts, mint & cilantro and let it cook for 3 whistles.

Cool this down by placing it off the cook top  and mix the cooked wheat in the cooker and let it completely cool.

Put this in mixer and grind it soft. Add salt to taste.

Put this back in the cooker and cook it for 10 more minutes on medium heat.

To get good flavour, add garam masala & Pista to the mix and mix it well.
Before serving the Heleem, please garnish it as follows:
         Put the Haleem in a bowl, add fried onions, half teaspoon of ghee, Ginger sticks, Cilantro and squeeze little bit of lemon juice.

Tip: You can serve homemade Roties or Naana  as side with this delicious Haleem.
Tags
aada Aam Aloo angle hair badi Baigan Baked Chicken Burger Cabbage cake carrot fry Chana chicken coconut Coconut Milk dosa Fish Frittata garbanzo Gobi gongura gravy kheer kichidi Mango Masala moongdal Pakoda pancakes parota pasta Pav raita Ravva Rice roti Semiya shrimp snack tadka Tamarind Tindora vada vadiyam Veggie
Comments Off on Pista Haleem