Nov 24 2009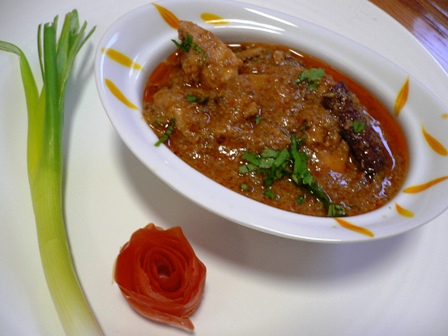 Ingredients:
 Chicken Pieces – 1 Lb
Green Chillies – 5 cut into pieces
Tomato – 1/2 Puree
Onion – 1 medium – cut into small pieces
Ginger Garlic Paste – 1 Table Spoon
Chilli Powder – 1 Table Spoon
Curd – 1/4 Cup
Butter – 2 Table Spoon
Cloves – 4
Cinnamon – 1/2 inch
Clove Powder – 1/8 Tea spoon
Mint – 5 leaves
Cilantro – handful
Salt
Oil
Dry Masala : Grind the following and make the Dry Masala.

Poppy Seeds – 1 Tea spoon
Dry Coconut Powder 0 2 Table Spoons
Cinnamon – 1/2 Inch
Method:
Pre-heat oven to 350 degrees.
Mix the butter, curd, salt, chicken pieces with 1/4 tea spoon of ginger/garlic paste and bake it for 20 minutes.
In a pan put the oil. Once oil is hot, put the onion, green chillies, cloves, cinnamon stick and saute it for couple of minutes and now its time to put ginger/garlic paste and fry it till the raw smell goes.
Put the baked chicken pieces, dry masala powder, Chilli powder, Mint leaves and  salt. Saute it for 2 minutes and then put the tomato puree and cook it for 20 minutes.
Garnish it with Cilantro.
Tip: It goes very well with Roties, plain rice and Fried Rice.
Comments Off on Baked Chicken Koorma