Apr 18 2011
Yesterday, I had a get together at my home and I made lot of food which also
included Raita too. When we had all the fun and as they were departing, I was
packing the leftover food. I had lots of Raita left over.
I was going to throw this raita to clean the bowl as you know it won't be
good for the next day. That is when my friend Aruna Yerramalla told me you
can make Uthappa with this left over Raita. I asked her how? That is how I got
this recipe and when I made them, they came out good.
I learned not to throw away the left over Raita, but make yummy Utappa.
Try it out… you will like it.
Also note that this is a healthy snack too.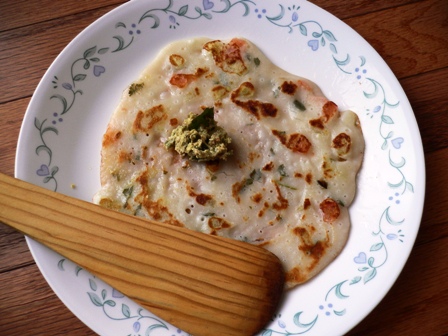 Ingredients:
Raita – 2 Cups
Rice Flour – 1.5 Cups
Salt – to taste
Oil – to make Uthappams
Method:
In the raita, mix the rice flour and salt and let it ferment for 5 to 6 hours.
Take a skillet and put little oil and put 1/4 cup of mix and spread it like pan cakes and put some oil around the uthappa and let it cook.
After few minutes flip it other side and cook.
Take this in a plate and serve this with any chutney.
Comments Off on Utappa with Leftover Raita