Dec 26 2010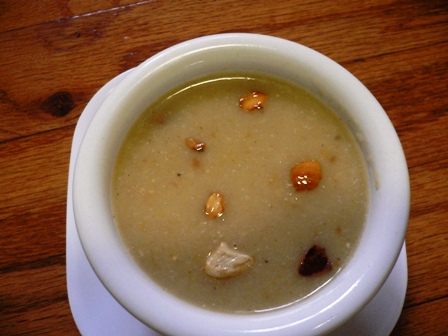 Wheat & Moongdal Payasam in Coconut Milk
Ingredients:
Raw Wheat – ½ Cup
Moongdal – ¼ Cup – Dry Roast
Jaggery(Gud) – ½ Cup
Ghee(Purified Butter) – 3 Tablespoon
Coconut Milk – 1.5 Cup
(To make one cup of coconut milk, take ½ cup of raw coconut and ¾ cup of water and grind it and then strain the coconut to get the Coconut Milk)
Cashew nuts – 10
Cardamom(Elachi) – ¼ Teaspoon
Water – 2.5 Cups
Method:
In a small pan put 1 teaspoon of Ghee and fry the Cashews.
In a bowl, put Gud and ½ cup of water and keep it aside.
Put Wheat in the food processor and grind it coarsely.
In a heavy bottom pot, put water, wheat and dry roasted moongdal and let it cook until the wheat & moongdal become soft. Usually in 7-10 minutes on high heat.
Add the Gud and remaining ghee to the pot and let it cook for 5 minutes.
Once the stuff comes close, add coconut milk and let it cook for 5 more minutes.
Finally add Elachi and fried cashew and mix it well.
You can serve this hot or cold.
Comments Off on Coconut Milk Kheer