Nov 04 2010
Shrimp in Coconut Milk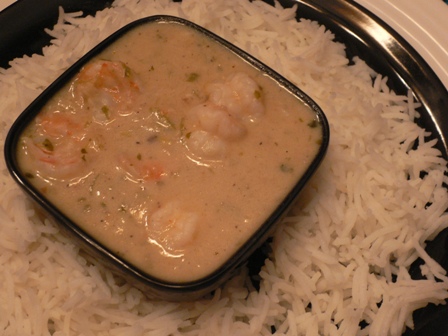 Ingredients:
Shrimp – 20 – Cleaned and Divined
Low fat coconut milk – 1 Can – 5 OZ
Hot Sauce – 1 Teaspoon
Lime Jest – ½ Teaspoon
Lime Juice – ½ Teaspoon
Ginger – 1 inch pieces
Garlic – 3 Cloves
Cilantro – Handful
Bread Slice – 1
Salt & Pepper – as needed
Scallions – 1 stem
Peanut Butter – 2 Tablespoons
Oil  -2 teaspoon.
Method:
In a food processor put all the ingredients starting from 'Lime just'  thru 'Peanut Butter' and grind it to a dry powder.
In a heavy bottom pan, put the coconut milk, oil and hot sauce and bring it to heat and add ground mix in this and ½ cup of water and cook it on medium heat for 5 minutes.
Gently put the raw shrimp and cook it until the shrimp cook thoroughly and take it off from the heat. 
Serve this with Brown Rice, Orzo or Couscous.
Comments Off on Shrimp in Coconut Milk