Nov 23 2009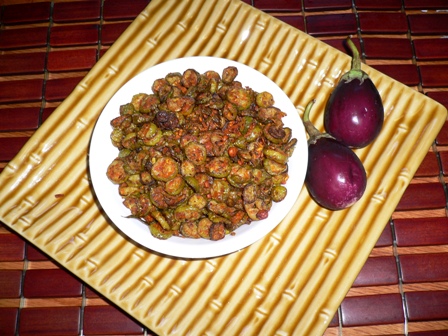 Ingredients:
Tindora – 1 lb cut into small pieces
Curry Leaves – 10
Kobbari Karam – 3 table Spoons
Tadka Seeds – 1 Tea spoon
Turmeric Powder – 1/4 Tea Spoon
Salt to Taste
Oil to Fry
Method:
Cut the Tindora into small pieces and boil them with a bit of salt for 12 minutes and drain them and keep it aside.
In a frying pan and put 5 table spoons of oil and put the tadka seeds, Curry leaves and let them crackle for a minute
Now Put the drained Tindora pieces and saute till they look little brown in color and put turmeric powder and let it fry for some more time.
Once Tindora turns brown in color put the Karampodi and mix it gently and take it off from Stove.
Comments Off on Tindora Fry