Jul 08 2010
మినప్పప్పు వడియాలు 

Ingredients:
Urad Dal – 1 Cup – Soak for 2 hours
Green Chilies – 15
Zeera – 1 Teaspoon
Salt – as needed
Garlic Paste – 1 Teaspoon
Sesame Seeds – 1 Tablespoon
Method:
Grind the green chilies, zeera and keep it aside.
Grind the Urad Dal without putting any water.
Add the zeera mix, salt, sesame seeds and garlic paste in ground Dal mix and mix it very well.
Put this in dime size Vadiyams in hot sun and let it dry for 2 days.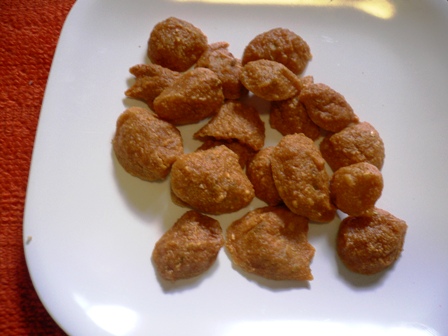 When ever you want to have these, Deep fry it and serve.
Comments Off on Urad Dal Vadiyam(మినప్పప్పు వడియాలు)