Nov 18 2010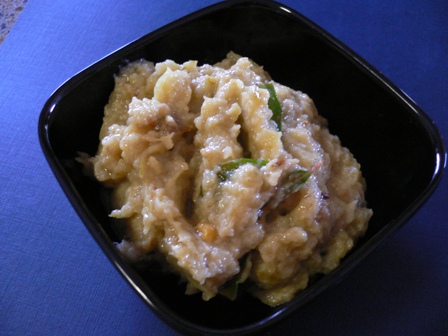 Ingredients:
Cabbage – 2 Cups
Tamarind – small lemon size
Zeera – ¼ Teaspoon
Green Chillies – 8
Garlic Cloves – 2
Tadka Seeds – 1 Tablespoon
Curry Leaves – 1 Stem
Oil – 2 Tablespoons
Salt to taste.
Method:
Cut the cabbage into big pieces and boil this in  2 cups of water for 10 minutes, drain it and keep it aside.
In a small pan put 1 teaspoon of oil and fry green chillies, zeera & tamarind and let it cool.
In a food processor, put these fried stuff along with garlic cloves, cooked cabbage and salt and grind it to fine paste and take this in a bowl.
In a small pan put the remaining oil and bring it to heat and put tadka seeds and curry leaves.
Once they crackel, put this in ground chutney paste and mix it well.
It goes well with Rice & Dosas or Roties.
Comments Off on Cabbage Chutney