Apr 26 2011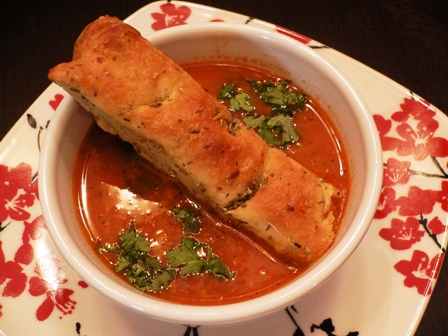 Ingredients:
Masoor Dal – 1/2 Cup
Canned Tomatoes – 14 Ozs
Onion – 1 Medium – finely chopped
Garlic – 2 Cloves
Red Chillies Flakes – 1/2 Teaspoon
Potato – 1 Medium – Shredded
Salt – to Taste
Oil – 3 Tablespoons
Cilantro – 1 Tablespoon
Water – 3 Cups
Method:
Grind the Tomatoes to puree
Take a heavy bottom sauce pan and add the onion, garlic and saute till the onion become soft.
Add red chili flakes and mix it well
Add Masoor Dal and 3 cups of water and bring it to a boil, cover it with lid and cook this until the Dal become soft.
Mash the Masoor Dal with the spoon add the Tomato puree, salt and shredded potatoes(if you like it to be hot, you can add red chili flakes) and cook on medium heat till the potato cooked through.
Add the Cilantro and simmer for 10 minutes.
* Serve this soup hot with any kind of toasted bread.
Comments Off on Masoordal Soup