May 12 2010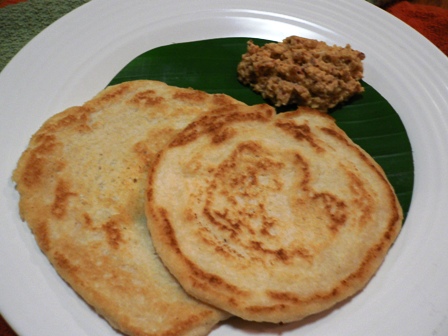 Ingredients:
Urad Dal – 1 Cup
Sona Masoori Rice – 1/4 Cup
Salt – to Taste
Oil – As required
Method:
Soak Rice and Urad Dal for 1 Hour and grind it.
Add salt and mix it well.
Take a Skillet and put 1 Teaspoon of Oil and put the battered Flour as thick pancakes and put some more oil around the Pan Cakes.
Put the lid on and cook till it looks golden brown and flip it to the other side.
Let it cook for few more minutes until it looks brown. Remember, when you flip it, do not put the lid on to cook it.
Tips: Serve it with some hot chutney. Coconut chutney is a good combination.
Comments Off on Mash Ki Roti