Jan 14 2011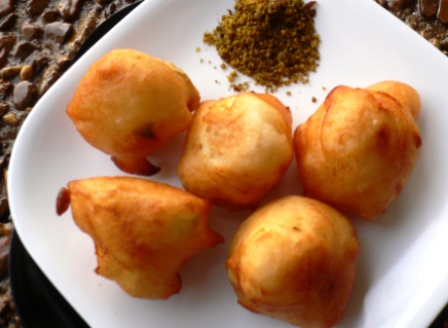 Ingredients:
Thick Dosa batter –  1 cup
Chanadal – 1 Tablespoon – Soaked
Green Chillies  – 3 – Cut into small pieces.
Onion – ½  – Cut into small pieces.
Zeera – ¼ Teaspoon
Oil –  to deep fry
Salt to taste.
Method:
In a bowl put all the above ingredients except Oil and mix them well.
Take oil in a heavy bottom pan and bring it to heat. Put spoon full of batter in small balls shape and let them  fry until they look golden brown.
Once they are done, take them out with slotted spoon and put them on paper towel so that all the excess oil can be drained. 
Serve this hot and have fun. You also can serve this with any chutney.
Comments Off on Puli Bongaralu