Nov 16 2009
My Paternal grandma is such a great cook who always makes all hot and spicy food specially in winter months and during rainy days.
Although my mom is a good cook, we always look forward to eat spicy food from my Grandma especially my dad loves her hot and spicy Hara Emli ka Machhi(Green tamarind with Fish).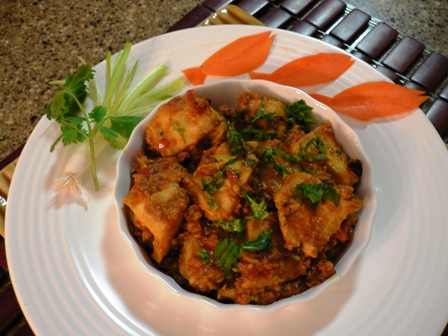 Ingredients:
Fish – 1 lb
Tomato – 1 large – Cut into small pieces
Onion – 1 medium – Cut into small pieces
Green Chillies – 8 – Cut into small pieces
Green Tamarind Paste – 5 Table Spoons
Ginger garlic Paste – 2 Table Spoons
Turmeric Powder – 1/4 Tea Spoon
Fish Masala Powder – 1/4 Tea Spoon

 Methi – 10
Curry Leaves – 20
Coriander- 1 Table Spoon
Cumin – 1 Table Spoon
Dry roast the above 4  and store in a air tight bottle.

Chilly Powder – 1.5 Table Spoon
Salt to taste
Oil
Coriander leaves
Method:
Take a Skillet and pour oil. Let it bring to a heat and put the green chillies & onion and fry until they look translucent and then put the ginger garlic paste.
Let it saute until the raw smell goes off.
Now lower the heat a bit and put turmeric, chilly powder, fish masala powder and salt and saute.
Put the tomato pieces and green tamarind paste mix and pour 1 cup of water and add  Fish pieces gently. Let it cook on medium heat until all the water is evaporated.
You need to let the curry to burn a little bit(means let the bottom Masala on the skillet become little brown)
Put the Cilantro.
Tip: Don't grind the tamarind to a paste. Grind it coarsely. You should have a texture when you put this in Curry.
Serve it with hot white rice.
Comments Off on Hara Imli Ka Macchi(Fish with Green Tamarind)