Aug 15 2010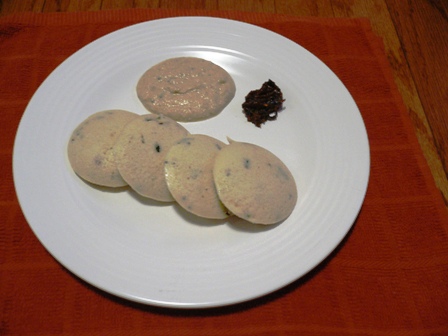 Ingredients:
Urad Dal – 1 cup
Moong Dal – 1/2 Cup
Idly Ravva – 1 Cup
Coriander Leaves – 1/4 Cup
Salt – to Taste
Mustard Seeds – 1/2 Teaspoon
Curry Leaves – 1 Stem
Hing – 1 Pinch
Oil as required.
Method:
Soak Urad Dal, Moong Dal for 2 hours and grind it in a mixture.
Wash the Idly Ravva and squeeze the water out of it and put this in above dough, then add salt and mix it well.
Take a small pan and put 1 tablespoon of oil and bring it to heat and put mustard  seeds, hing, curry leaves and let them crackle and put this in the idly dough.
Add cilantro to this dough.
Put this in idly maker and make them like regular idlies.
Tip: serve this with any kind of Chutney.
Comments Off on Tadka Idly