Oct 31 2009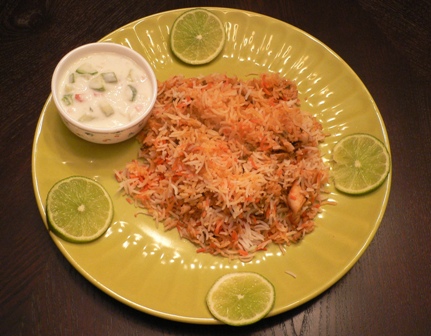 Ingredients:
Chicken bone/boneless  – 2 lbs
One Big onion – cut thin
Green Chillies – 8-10
Cinnamon, Cloves & Cardamom – 4 each
Tomatoes – 2 big
Mint – one bunch
Coriander leaves – 1/2 Bunch
Lemon Juice – 2 Spoons
Curd – 1/2 Cup
Ginger Garlic paste – 10 Spoons
Red Chillies powder – 3 Spoons
Clove Powder – 1/4 Spoon
Cinnamon Powder – 1/4 Spoon
Cashew nuts – 12
Salt to taste
Oil to Fry
Basmati Rice – 4 Cups
 Method: 
Clean the chicken and keep it aside.
In a pan put the oil and then put the Cinnamon, Cloves ,Cardamom, Cashew nuts and Fry them
Then put the Onion & Green Chillies in it Fry it for some time & then put the ginger garlic Paste then fry.
After that put mint, coriander leaves and fry them
Put red chillies powder, salt and then put the chicken pieces and fry it well then add curd and lemon juice
Put some water and cook it very well
Cook the rice outside in cooker – half cooked and mix the rice with chicken gravy and let it simmer for some time
Put the food color here & there in rice.
Tips: If you are cooking in oven after cooking the curry put the raw rice and water and cover it and keep that in the oven. Pre-heat the oven for 500 degrees. Cook for 25-30 minutes.
Comments Off on Chicken Biryani