Mar 31 2010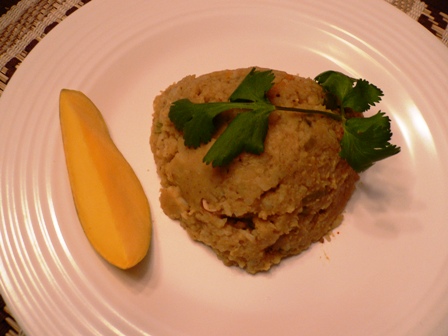 Ingredients:
Rice – 1/2 Cup
Toordal – 1/2 Cup
Tamarind – Small lemon Size
Carrot, Onion, Peas, Beans, Potato – 1 Cup – all together
Dry Coconut – 2 inch piece.
Red Chillies – 6
Chana Dal – 1 Table Spoon
Urad Dal – 1 Table Spoon
Dhania(Coriander) – 1/2 Teaspoon
Zeera – 1/4 Teaspoon
Fenugreek Seeds – 1 Pinch
Hing – 1 Pinch
Cashew – 12
Ghee – 3 Tablespoon
Cinnamon Stick – 1 Inch
Ealachi – 2
Cloves – 8
Coriander Leaves – handful
Turmeric – 1/4 Teaspoon
Salt to taste
Method:
Wash the rice, Dall and put 3 cups of water and pressure cook for 6 whistles.
Soak tamarind in water and take 1/4 cup of juice and keep it aside.
Dry roast the above ingredients from 'Dry coconut thru cloves' individually and grind it to fine powder and keep it aside.
Put all the vegetables in a 2 cup of water and boil them till they become soft. Mash them into small pieces(not to paste).
Add tamarind juice, salt, ground masala powder, coriander leaves and turmeric powder and mix it very well.
Now put this mixture in the cooked rice and dal cooker and mix it well.
In a small pan, heat the ghee and fry the cashews and put this in the cooker and mix it and keep it aside for 10 minutes.
Serve the Bisibelebath hot.
Comments Off on Bisibelebath