Nov 15 2010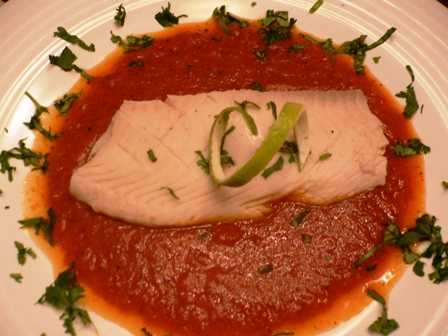 Ingredients:
Tilapia  Fish – 2 Pieces
Homemade vegetable Stock – 2.5 Cups
Homemade marinara Sauce – 1 Cup
Cilantro – ½ cup – to garnish
Method:
In a shallow pan put the vegetable stock and heat it to 160 degrees.
Put Cris cross slits on the fish so that it won't curl up when you put this in hot stock.
Now gently slide the fish pieces into the stock and cook it for 8-10 minutes on 160 degrees. Do not over cook the fish. Once it is cooked, take the fish into a plate.
In a small sauce pan, heat the marinara sauce.
Take a plate and put ½ cup of hot marinara sauce and top it with poached fish and garnish it with cilantro.
Serve it hot.
Comments Off on Poached Fish in Marinara Sauce