Aug 29 2010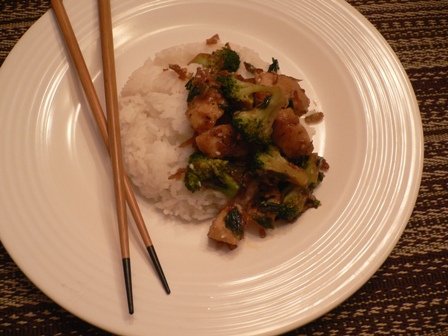 Ingredients:
Chicken – 1 lb – boneless – cut into bite size
Broccoli – 2 cups – florets
Soy Sauce – 1 tablespoon
Shallot – 1 cut into tiny pieces
Ginger – 1/2 inch grated
garlic – 1 clove – grated
Red chillie flakes – 1/2 teaspoon
Pepper & Salt – to taste
Scallions – 1/2 Cup – cut into small pieces
Peanut oil – as needed
Method:
Blanch the Broccoli Florets and keep them aside
Take a heavy bottom skillet and put 6 tablespoons of oil and put the chicken pieces and fry them till they are cooked. Add a little bit of salt & pepper while cooking.
Take the chicken pieces out of the skillet and put this in a plate aside.
In the same pan dump the shallots, ginger, garlic, scallions and red chillies flakes and saute for couple of minutes. Add Soy sauce and mix it well.
At this point put the cooked chicken pieces and broccoli florets and stir fry them well so that the sauce will get into the Broccoli.
Serve it hot with white rice or fried rice.
Don't add lot of salt because Soy sauce already has salt in it.
Put Salt & Oil as per your taste.
Comments Off on Broccoli Chicken Stir Fry