Aug 03 2010
I made angle hair pasta last night for Dinner. I stored left over pasta in refrigerator, thinking I can make pasta for lunch. I love cereal for breakfast and me & my hubby had our cereal at 8:00 AM. Around 9 AM, My lovely husband told me he is still hungry. I was like, just now you had breakfast and you are hungry again.:o) Then I opened the fridge and there I saw the pasta, looking at me like … please take me out of hear and make your hubby happy. Then I took all the ingredients one by one and I made Pasta Frittata. We both liked it so much and I hope you do like this. If you make this, please do write a line or two to tell me how you liked it.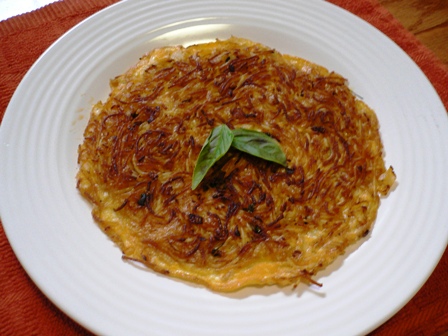 Ingredients:
Left over angle hair paste – 1 Cup
Pasta Sauce – 2 Tablespoons
Eggs – 2
Salt & pepper – to your taste.
Tomato Ketchup – 1/2 Teaspoon
Onion – 1 medium – cut into small pieces.
Cilantro – 1 teaspoon
Basil Leaves – 2 tear into small pieces.
Oil – 1 Tablespoon.
Method:
Beat the eggs with salt & Pepper and keep it aside.
Take a medium skillet and put 1 tablespoon oil and let it heat and put the Onion and saute it for couple of  minutes.
Add Angle Hair Pasta, Pasta Sauce, Cilantro, basil and Tomato Ketchup and fry these for 6 to 7 minutes on high heat until the pasta looks bit crispy.
Now lower the heat and put the egg mix on top of Pasta and spread it like Omelet and let it cook on medium heat for 3 minutes. Flip it to the other side slowly and cook it for another 2 minutes. Your Frittata is ready, so take it off from the heat and serve it hot.
Serve it with Cilantro.
Note: When I tried to make Frittata with other pasta's it did not come good. This worked only with Angle Hair pasta & Linguine Pasta.
Comments Off on Left over Pasta Frittata