Dec 14 2009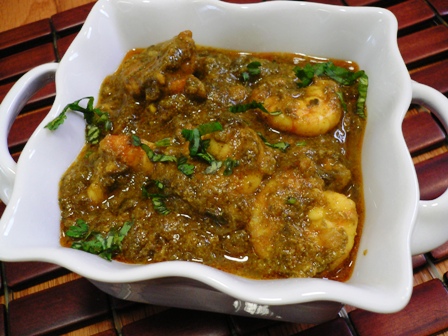 Ingredients:
Gongura – 2 Cups
Shrimp – 40 Medium or Small(Cleaned & Divined)
Tomato – 1 Medium – Cut into small pieces
Onion – 1 Medium – Cut into small pieces
Ginger-garlic Paste – 1 Table Spoon
Red Chili powder – 1.5 Tea Spoon
Green Chilies – 5 cut into long lengths
Turmeric Powder – 1/4 Tea spoon
Clove Powder – 1/8 Tea Spoon
Salt – to taste
Coriander Leaves – Handful
Oil
Method:
Cook gongura leaves in 1/4 cup of water for 15 minutes, grind coarsely and keep it aside
In a heavy bottom sauce pan put 8 table spoons of oil . Once oil becomes hot, put the onion, green chilies and saute for couple of minutes.
Add ginger garlic paste to the pan and fry until the raw smell goes off.
Put the turmeric, chili powder, salt, clove powder, tomato pieces, shrimp and a cup of  water and put the lid and let it cook for 15 minutes or like a thick gravy curry.
Slowly put the grounded gongura stuff and mix it very well with at this point. Check the salt and you can adjust it.
Put the alf of the coriander leaves and let it cook on slow heat so that curry will not burn.
When it looks like a medium thick gravy take it off from the heat and garnish it with remaining cilantro leaves.
Tip: It goes very well with white rice.
Comments Off on Gongura Shrimp Curry