Jun 27 2010
We were invited to my friend's son's(Srikar) birthday. I made this cake once last year. When I gave this sample last year, I remember my friends liked it. I thought  I will make this Tres Leches Cake for  Srikar's Birthday. I made this night before and took it to the party. You don't believe how much fun Srikar and his brother had with this cake. Parents also loved this cake.
Try this and I am sure you will like it too. Just a warning… It is too rich!!!.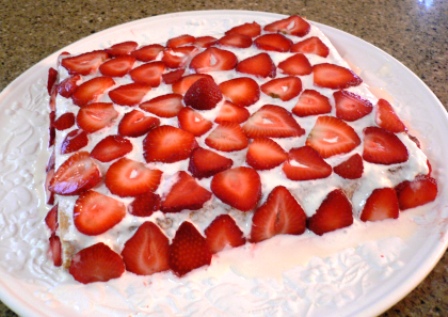 Ingredients:
Unsalted butter – 4 Ounces(1 Stick)
Pure Vanilla Extract – 3 Teaspoons
Large Eggs – 7
Baking Soda – 1/4 Teaspoon
Salt – 1/4 Teaspoon
Sugar – 1 Cup
All-purpose flour – 1 Cup
Sweetened condensed milk – 1 can (14 ounces)
Evaporated milk – 1 can (12 ounces)
Whole milk – 2 Cups
Heavy cream – 2 Cups
Strawberries – 1 Cup – Sliced & Diced – fresh
Method:
First we will be Making the Cake & then before serving, we will be decorating it with Heavy cream and Sliced & Diced fresh fruit such as Strawberries or Pineapple.
Preheat oven to 350 degrees. Butter   9 X 13 inch glass or Ceramic Baking Dish
Heat Butter in a small saucepan over medium heat, swirling occasionally until butter browns about 6 to 8 minutes. Remove it from the heat and let it cool. Now add the vanilla.
Whisk egg whites, baking soda and salt with a mixer until soft peaks form(2 to 3 minutes).
Add yolks and whisk until combined. Reduce mixer speed to medium. Add sugar in a slow steady stream and mix until combined.
Using a rubber spatula, quickly and gently fold butter mixture into egg mixture.
Combine flour in a small bowl. Sift 1/3 cup flour over egg mixture and gently fold to combine. Working quickly, sift remaining flour mixture over egg mixture in 2 additions and gently fold to combine. Pour batter into prepared dish and bake until golden and tester inserted into center comes out clean(20 to 25 minutes).
Meanwhile, Whisk together the 3 milks in a medium bowl. Pour over cake as soon as it comes out of the oven, Transfer cake in dish to a wire rack to cool completely. Cover and refrigerate it overnight.
Serve cake with heavy cream and sliced Strawberries.
Enjoy your awesome Tres Leches Cake.
Tags
aada Aam Aloo angle hair badi Baigan Baked Chicken Burger Cabbage cake carrot fry Chana chicken coconut Coconut Milk dosa Fish Frittata garbanzo Gobi gongura gravy kheer kichidi Mango Masala moongdal Pakoda pancakes parota pasta Pav raita Ravva Rice roti Semiya shrimp snack tadka Tamarind Tindora vada vadiyam Veggie
2 Responses to "Tres Leches Cake"
#

Aruna (Srikar's Mom)

on 29 Jun 2010 at 2:04 pm

Yes, it was so good. Thanks again Shaki for a awesome cake…:)

#

Srinivas

on 29 Jun 2010 at 3:59 pm

I had this cake when you made it. It was delicious, tasty, memorable cake.