Jun 15 2016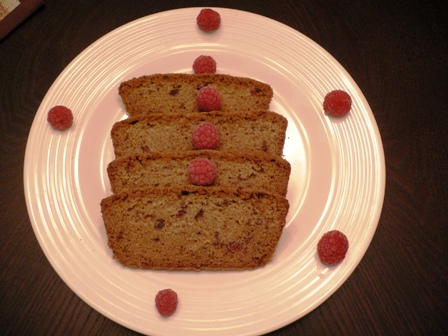 Ingredients:
Frozen Raspberries – 1 Cup – Thaw
All purpose Flour – 1.5 Cup
Sugar – 1 1/4 Cup
Butter – 1 Stick – room temperature
Eggs – 2
Baking Soda – 1 Teaspoon
Vanilla essence – 2 Teaspoons
Orange Jest – 1 Teaspoon
Salt – 1/2 Teaspoon
Method:
Pre-heat the oven to 350 degrees.
In a bowl put the flour, salt and baking soda, mix it well with the fork and keep it aside.
In the mixer bowl put the butter and sugar and mix it till the sugar dissolves.
Add eggs one by one and mix it slowly.
Add the vanilla essence and orange jest and mix it gently.
Add the flour in 2 to 4 batches and mix it gently.
Add the raspberries and fold it gently with spatula.
Butter and Flour the baking pan and put the mix and bake it for 55 minutes.
Let it cool before you slice the cake.
Tags
aada Aam Aloo angle hair badi Baigan Baked Chicken Burger Cabbage cake carrot fry Chana chicken coconut Coconut Milk dosa Fish Frittata garbanzo Gobi gongura gravy kheer kichidi Mango Masala moongdal Pakoda pancakes parota pasta Pav raita Ravva Rice roti Semiya shrimp snack tadka Tamarind Tindora vada vadiyam Veggie
Comments Off on Raspberry Cake