Oct 12 2017
Ingredients:
Immaculate Flaky Biscuits – 2 cans – 16 Oz
Parmesan Cheese – ½ Cup – Shredded
Cheddar Cheese – 1 Cup – Shredded
Butter – 4 Oz
Salt & black pepper – As per your taste
Italian Seasoning – 1 Teaspoon
Medium size Garlic cloves – 4 – minced
Cooking spray for the Bundt Cake Pan.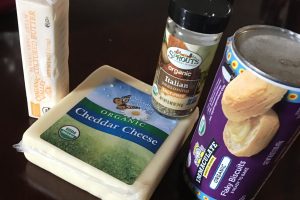 Method:
Pre heat oven to 375 o degrees.
Spray the Bundt cake pan with cooking spray and keep it aside
In a small pan, put the butter, Italian seasoning, minced garlic, salt and pepper and heat it till the butter melts and then take it off the heat and keep it aside.
Open the Cans and cut the biscuits into small pieces and put them in a large bowl.
Now add the melted butter mix and mix it gently with the biscuit pieces.
Add the Parmesan and Cheddar Cheese and gently mix them.
Put the Biscuits mix into Bundt Cake pan and bake it for 30 minutes. Take the pan out and let it cool for 10 to 15 minutes.
Place a plate upside down over pan; turn the plate and pan over. Remove pan. Your yummy Savory Monkey Bread is Ready.
Server this Savory Monkey Bread with warm marinara Sauce.
Note: To have more fun, let people peel these biscuit pieces as monkeys. Believe me!!! this is much tastier way of eating the Monkey bread. You will love it.
Comments Off on Savory Monkey Bread